Lawyer tariff is a regulation that specifies payment methods and lawyer's fees, i.e. offering legal assistance. The full title of this regulation is "Tariff scale on premium and reimbursement fees for the lawyer. The Lawyer Tariff is regulated by the BAR Association of Serbia.
All lawyers in Serbia must follow regulated prices and payment methods.
One must differentiate between premium fee and reimbursement fee. Lawyers have right to charge the client for work on the specific case, but they can also charge fornecessary expenses they had while working on the case.
For calculation of the expenses for your case, feel free to contact us on +3811177007453 or via e-mail office@pavleski-law.rs.
A premium fee is aprice for the application of expertise and experience in a certain case. For instance, offering legal advice, consideration of the case, filing a lawsuit, filing a complaint, representing at court, drawing up a contract, will, etc.
There are four payment ways:
Per hour (minimum 4.500,00 RSD)
Lump-sum payment (a determined amount of money paid periodically – e.g. monthly) in cases of continuous legal assistance
Percentage payment– in situations when the case is money related, e.g. compensatory damage, debt, partition, etc.
Payment for each action the lawyer takes from the following table: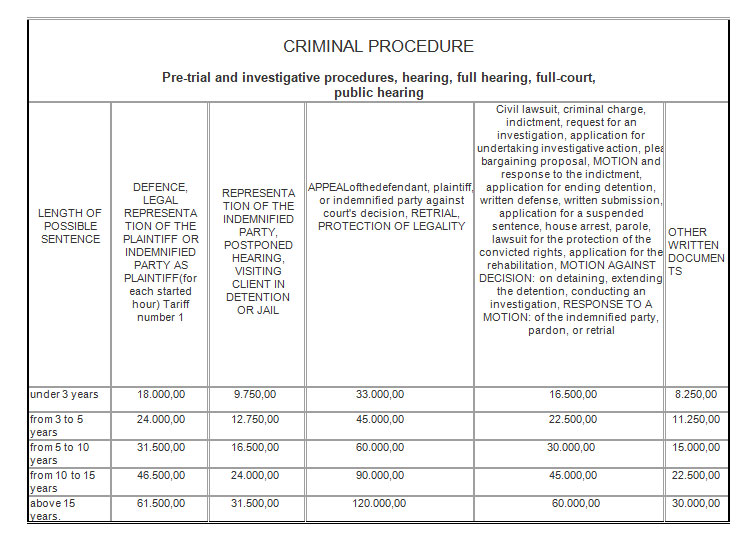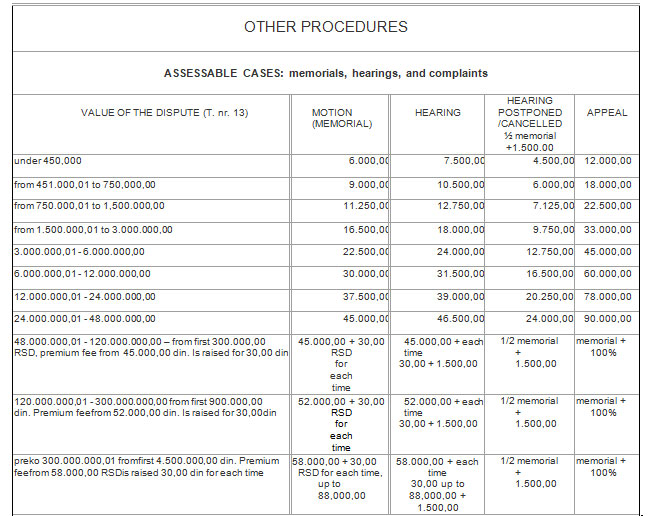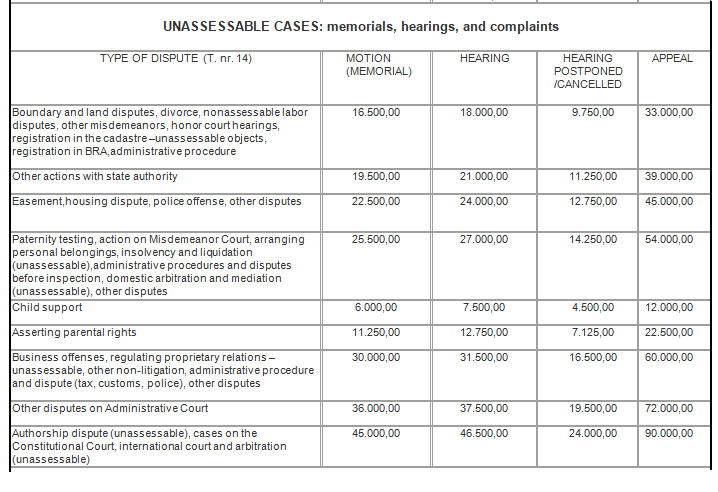 Note: Lawyer tariff stipulates that the lawyer can adjust the price for his/her service. The price can be reduced not more than double but can be raised maximum to an amount five times bigger. In practice, the price is adjusted due to the complexity of the case, time spent on the case, or other circumstances.
On the other side, a reimbursement fee represents all expenses the lawyer must have taken to offer needed assistance.In order to represent the client at the court, the lawyer must get to the court. The actual trip to the court bears a price. It is client's duty to cover those expenses since the lawyer represents the client.
Lawyer tariff stipulates that lawyer has the right to receive travel fees, accommodation, reimbursement for absence from the office, daily wage. The amount is calculated in the following way:
– Travel expense between cities covers all means of transportation the lawyer has chosen
– Travel expense within the city covers taxi services
– The expense of traveling by car covers 30% of the price for the most quality gas per kilometer
– Accommodation expense is covered fully beside hotels with 5 and more stars
– Reimbursement for the absence from the office – 1.500, – RSD for each hour, with a maximum of ten hours.
For calculation of the expenses for your case, feel free to contact us on +3811177007453 or via e-mail office@pavleski-law.rs.